Product Price List
America Bunk Bed 3ft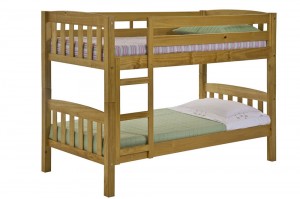 America Bunk Bed Standard Length Version (190cms) 3ft Colour Antique
Another great value deal from Credit Crunch Carpets Nottingham!
Colour: Antique

Fantastic Value from Credit Crunch Carpets Nottingham!

Size in Centimetres (LxWxH): 201x99x146
Internal Length: 190cm (6ft 3)
Internal Width: 90cm (3ft)
Bed Length: Normal
The best value in Nottingham
Single bunk bed 3'0" in solid pine. Colour antique pine finish. Slatted bases included. Can be purchased in a short version (160cms) ideal for smaller rooms. Ladder can be fitted on the left or right hand side.
Assembly Instructions: Click Here.
Assembly Video: Click Here.
Please note: Mattress is not included with this product. This item requires easy home assembly.
£270.00
All prices include VAT. All images are for illustration purposes only.
Credit Crunch Carpets - Cheapest Carpets in Nottingham